For years I have told myself I would declutter my house. But where to start? Everywhere I look there is a pile of papers, an overflowing drawer or something waiting to be put away but the spot it should go in is already full…OMG! Combine this with wanting to keep busy so I don't freak out that my daughter just went to live in New Zealand for five months makes this a perfect time for me to dive in on decluttering with gusto.
One of my very best friends in the world is known as Dr. DeClutter. She's a professional organizer. I've hired her to come help me on several occasions throughout the years. And I'm planning to do a big push sometime soon and have her come help with a decluttering project. But a massive overhaul of decluttering is not exactly what I need right now.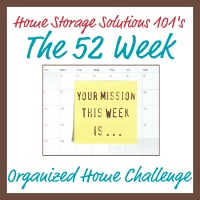 What I need is a slow and steady process. Something already figured out for me with step by step guidance. Something I can participate in without having to decide what to do. Most importantly, something that helps to fill my time productively. Naturally, I started my search on Pinterest and quickly found The 52 Week Organized Home Challenge. It's exactly what I'm looking for.
There are different challenges (assignments) each week and it covers everything from the kitchen to bathrooms, bedrooms, closets and even the yard and the car. Oh boy, does my car need this! It has detailed suggestions about what to do each week and helpful tips.
I'll be starting on Week 27 – linen closets. Normally my need to start "at the beginning" (i.e. week 1) would kick in, but I want to start now, not in January. So, I'm giving myself permission to be OK with jumping in where I'm at. It actually feels good, give it a try if you're one of the must-start-at-the-beginning types too.
This first piece of the weekly challenge didn't take very long at all. I grabbed everything out, started sorting in piles and within about 10 minutes I had a donate pile, a pile of stuff that needs to be stored somewhere else and a nice neat bunch of kitchen towels, place mats and napkins ready to go back in.
WHY DID I WAIT SO LONG TO DO THIS? It was so simple. I have a feeling I will be thinking this a lot during the next year.
If you think that having a project (or 52) around the house would be good, why not join me in doing The 52 Week Organized Home Challenge.
3 ACTION STEPS TO BUILD YOUR BEST LIFE NOW
You'll also get updates when new, helpful stuff is added to the handbook.
Thank you for subscribing.
Something went wrong.